Make the move to a 
healthier

 workplace.

The human body is not designed to remain in the same position for hours at a time. Adjustable height workcenters address this need to move and allow the user to change position frequently throughout the day. They are the foundation for any ergonomically equipped workspace and can be the single most effective means of achieving flexibility, maximizing comfort and increasing productivity in any office environment.

The size and shape of the workspace will determine the optimal size and shape of the worksurface you select. Because adjustable height worksurfaces move, you should allow 1″ of clearance at each side and in back of the worksurface to avoid pinch points and scraping.

Knowing the type of equipment to be used on the worksurface is crucial when selecting an adjustable height workcenter. When selecting a non-electric workcenter such as a crank or counter-balance table the weight of the equipment to be placed on the worksurface will affect the amount of human force required to adjust the height of the work center. The more force required, the less ergonomic the solution.

Understanding the work to be performed and the types of accessories to be used with the worksurface are also key considerations. Workcenters have many different types of frame supports and structures and may not provide the clearances required for the installation of other key accessories such as adjustable monitor supports and keyboard trays.

The range of adjustability required is one of the most important considerations when selecting the right adjustable workcenter. BIFMA G1 2013 recommends a range of adjustability from 22.6″ to 48.7″ to accommodate the 5th to 95th percentile of the workforce. Workrite has multiple options available that achieve full BIFMA adjustability metrics as well as some that offer a more limited range of adjustability.
How To Configure Your Workcenter
Select a worksurface shape, laminate & edge treatment
Choose from 2-leg or 3-leg shapes identified in Section 1.1. Laminates & edge treatments are detailed in the Materials & Finishes section of the Workrite binder.
Select the Frame Set
Choose from Electric Frame Sets in Section 1.2 or Non-Electric Frame Sets in Section 1.3.

Select the Control Switch
Choose either our Standard Control or Programmable Control with three user pre-sets and digital readout, detailed in Electric Frame Set Section 1.2.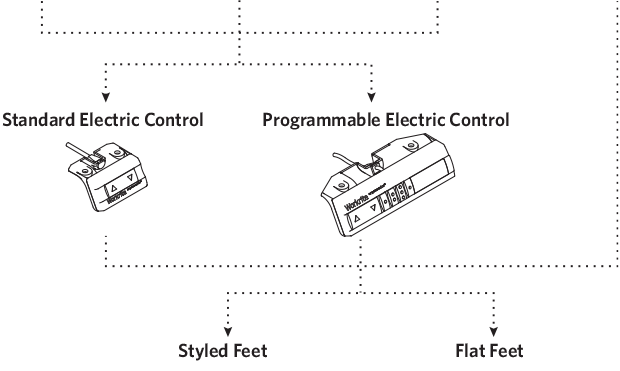 Select the Foot Set
Select the Styled Foot Kit or the Flat Foot Kit detailed in the sections where this option is available. 

Using an existing Worksurface
If you are using an existing worksurface, refer to Section 1.2 or 1.3  to order your frame set.