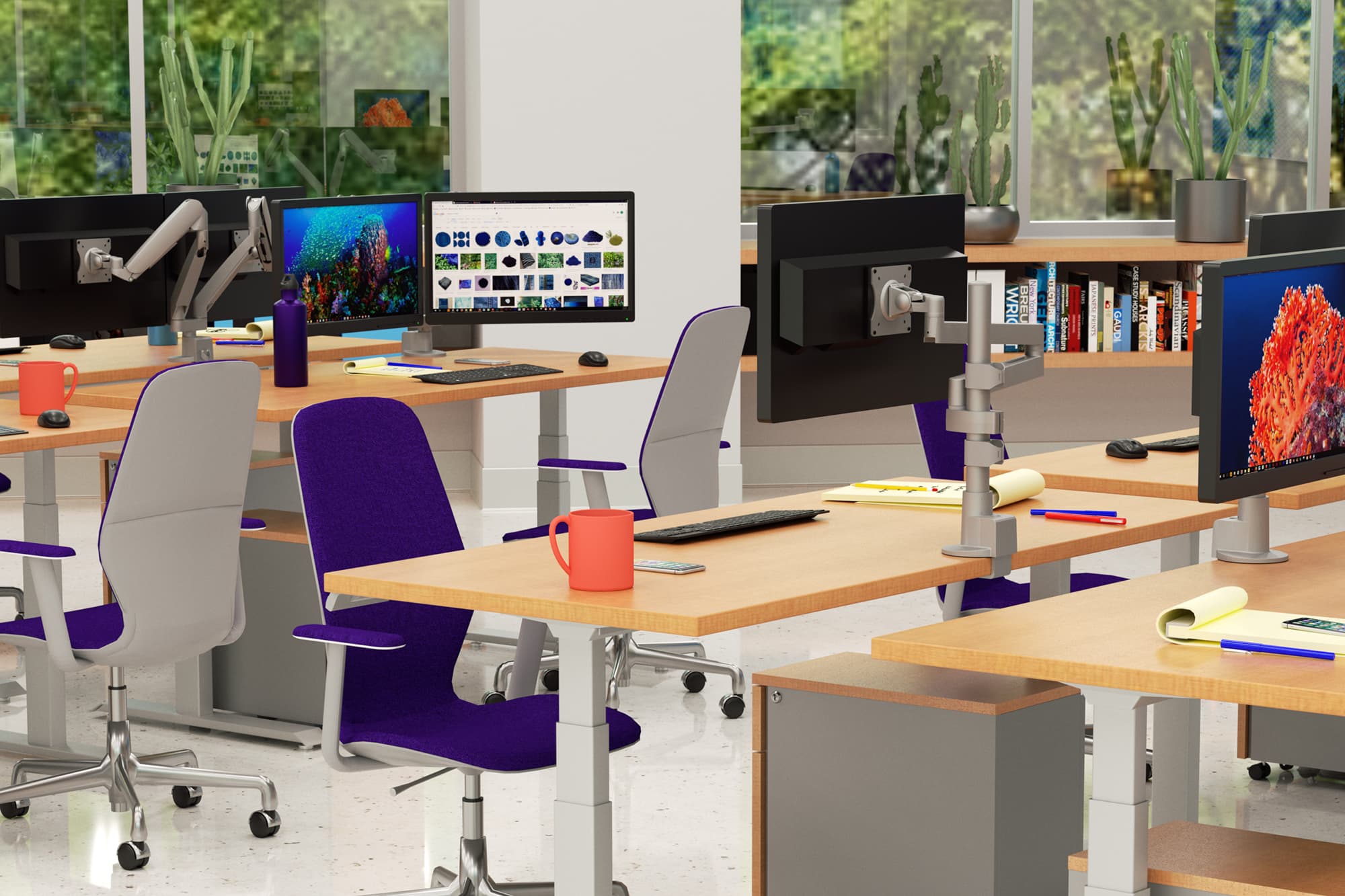 Monitor arms can be used with either fixed height or sit stand desks and are an excellent way to achieve the optimal level of adjustability recommended by ergonomists. When used appropriately, monitor arms can help workers avoid the development of musculoskeletal disorders (MSD), aid in the management of existing MSD, and help alleviate eye strain associated with long hours of computer use in the office. Monitor arms enable users to maintain neutral position of their shoulders, neck and back by allowing them to position their computer screen in the perfect location and angle for their height and the type of task they are performing. This adjustability is especially beneficial to users who wear corrective multi-focal lenses.
Space Saving Benefits
Using a properly designed monitor arm provides valuable space saving benefits that can increase the productivity of users, especially those individuals in smaller workspaces. Collapsible movement is one key benefit of a properly designed monitor arm, allowing the user to easily move the monitor out of the way for storage when not in use. Suspension space created by mounting the monitor arm to the back edge of a worksurface is another key benefit of an adjustable monitor arm, providing the user with substantially more usable work surface than a typical desk base monitor stand.
Collaboration Benefits
A typical monitor arm will provide 180 degrees of horizontal rotation enabling users to share their computer screen during collaboration sessions or when conducting customer meetings.
Performance Benefits
Research indicates that proper ergonomics in the office can increase worker productivity by 10-15% depending on the type of work being performed. Monitor arms are a key component to providing real ergonomic solutions that contribute to a more comfortable and productive environment.
Use the Monitor Compatibility Form to find out which Monitor Arm is right for you, depending on your monitor and the number of monitors you have.