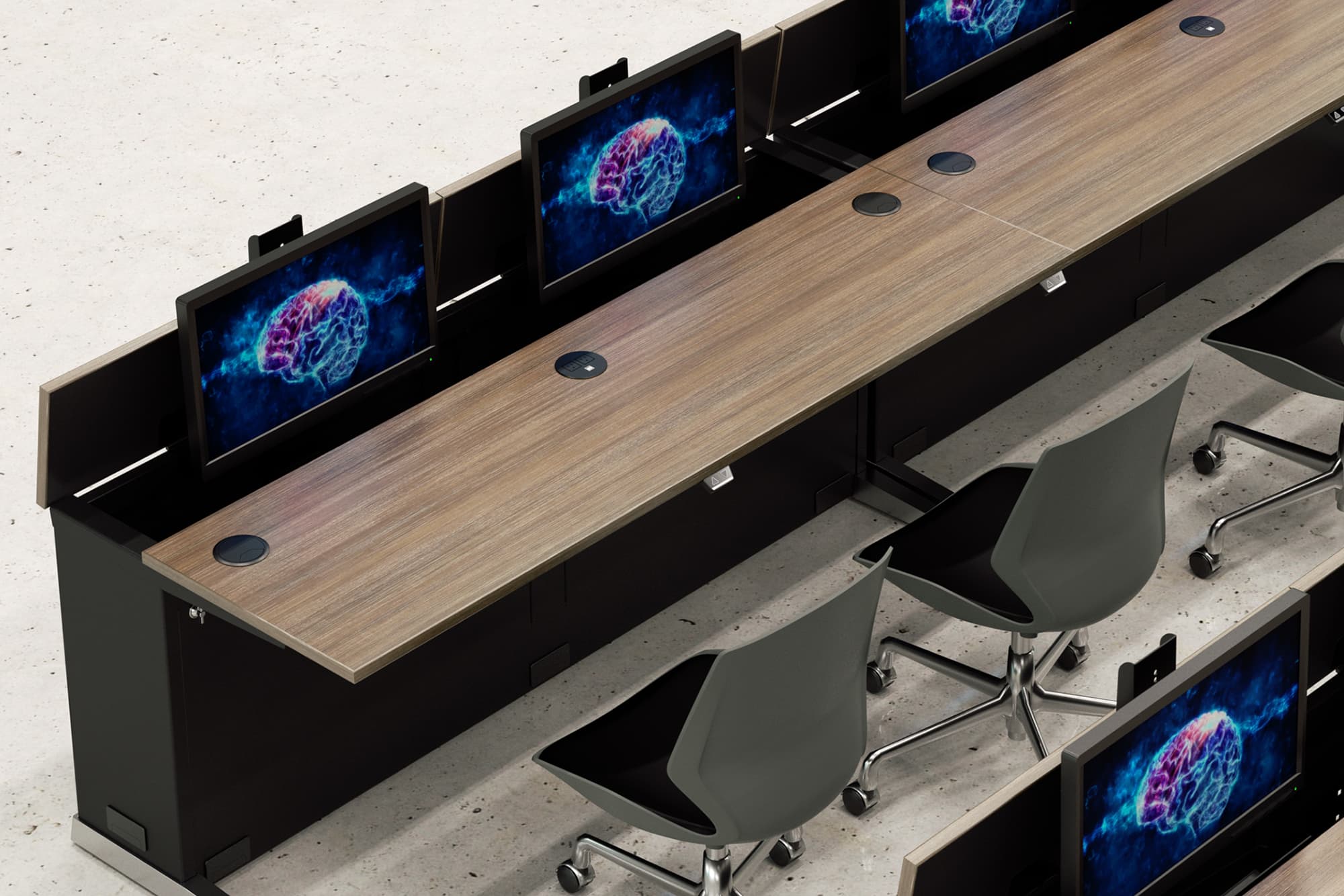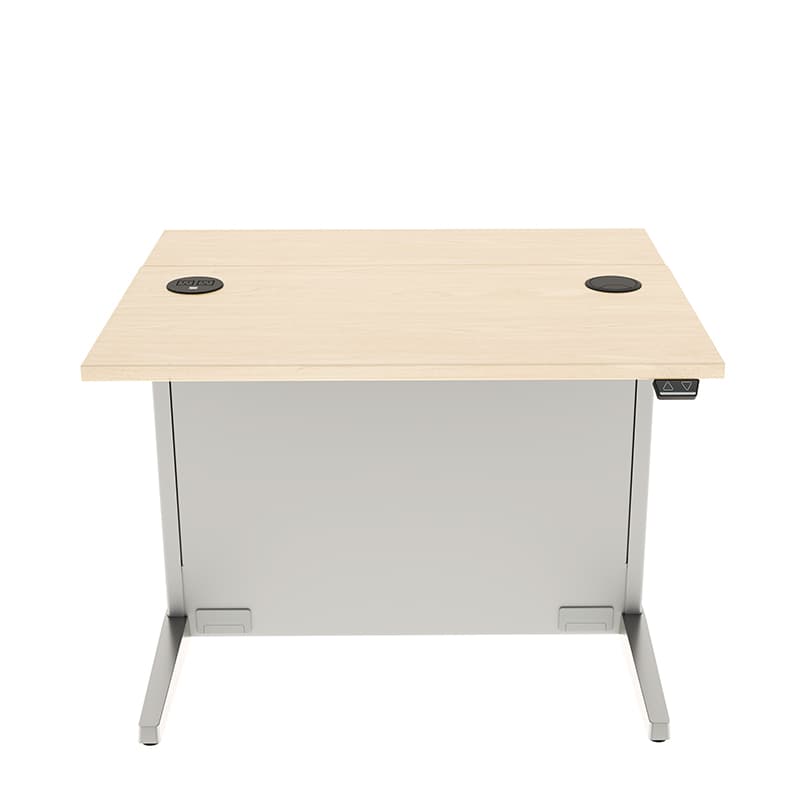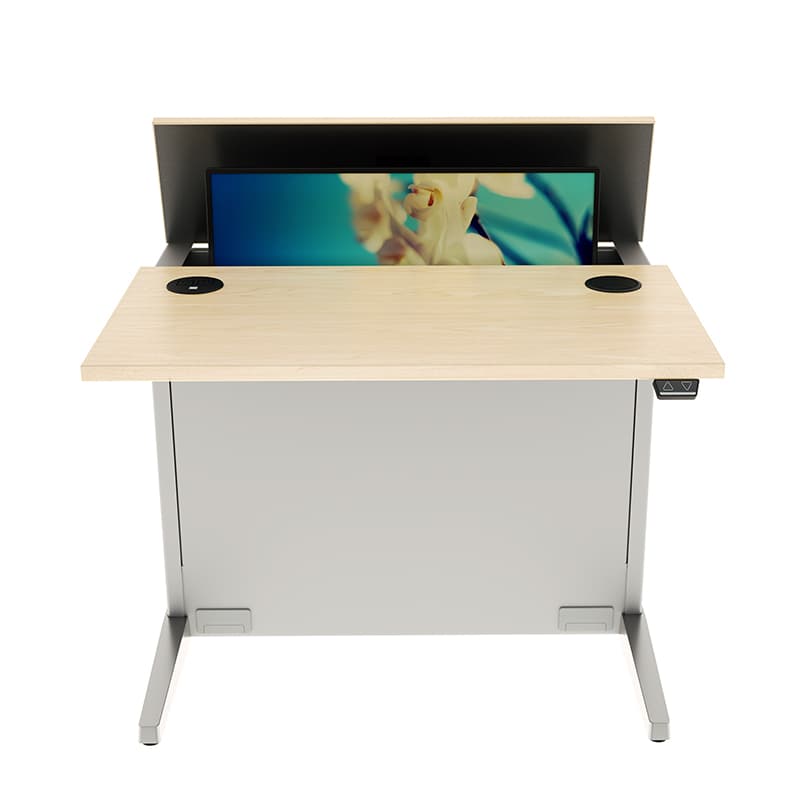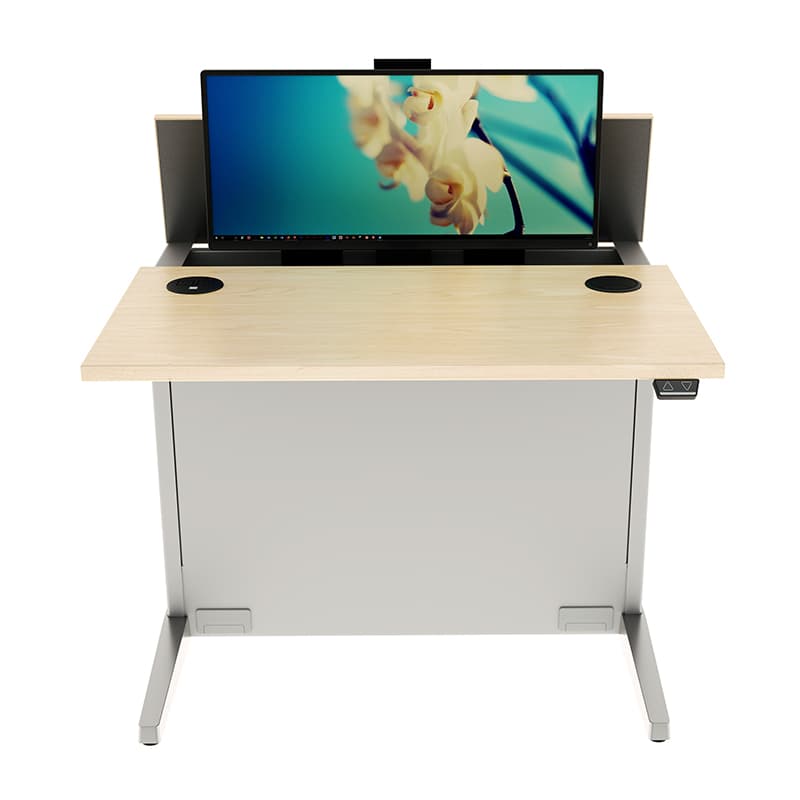 Electric Computer Training Desks
Manual Computer Training Desks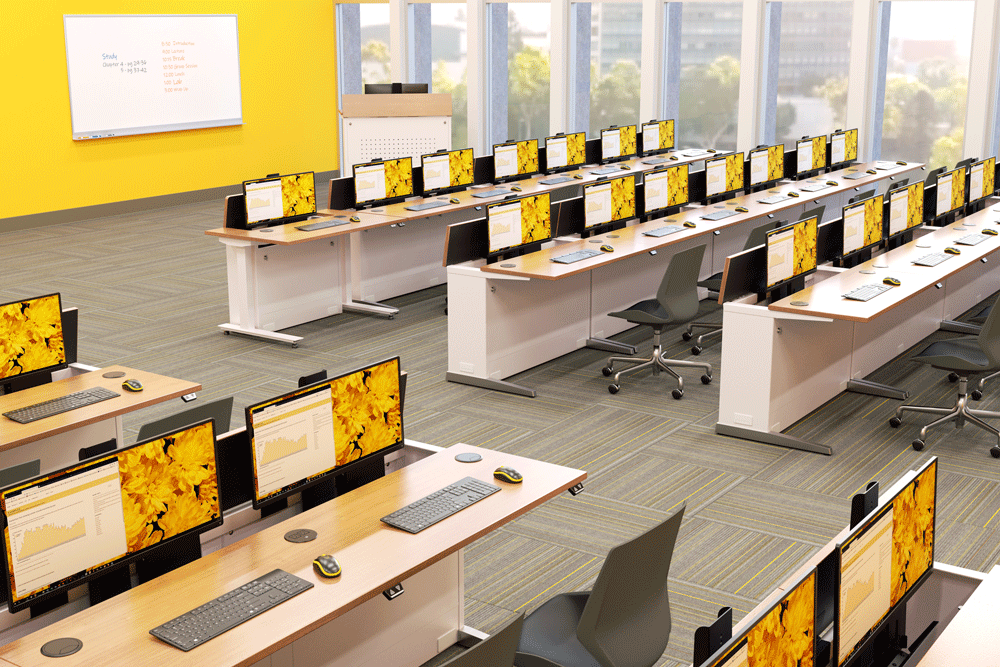 TRANSFORM YOUR LEARNING ENVIRONMENT
Traditional computer based classrooms and training rooms can be eye sores. Computers sit on top of desks, taking up the whole desk space and blocking the view of the student to the instructor. Unsightly, exposed cables can cause accidents and expensive equipment is vulnerable to theft and damage. Often they sit empty for a large portion of the day when there are not computer based classes in session.
Now, imagine a solution that improves the quality of teaching, clears the clutter, solves damage and theft issues, and increases room utilization. Line of Sight™ 3.0 training and technology computer desks are the solution.
NEW DESIGN. MORE FEATURES. BETTER VALUE.
In addition to its new streamlined, clean aesthetics, Line of Sight 3.0 integrates our most popular Line of Sight options as standard features and at no additional cost. Options such as end panels, cable pass throughs and front, side & rear grommets are now standard on Line of Sight 3.0.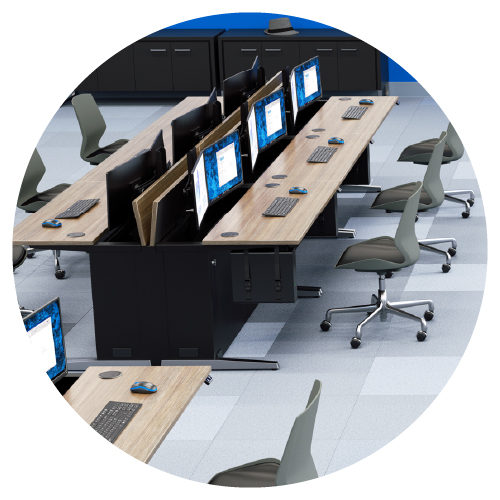 NEXT GENERATION ENERGY EFFICIENCY
Line of Sight 3.0 features an energy efficient control system that allows ease of use with minimal power consumption. The control system is highlighted by an advanced power supply with a 0.1w standby energy power consumption rating.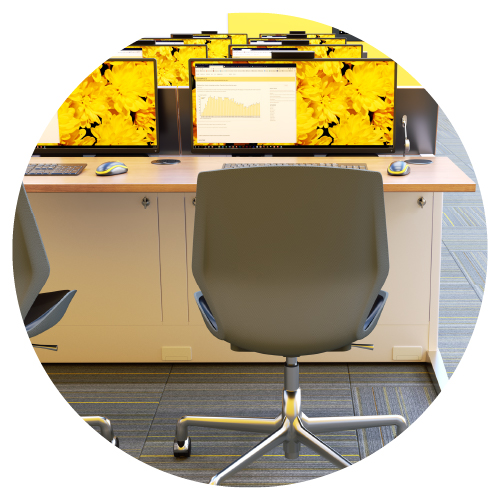 POWER AT YOUR FINGERTIPS
Enhance your Line of Sight 3.0 computer training desk with our optional Desk Top Power USB Charger. The module features two 120v 60hv AC Power receptacles and two USB charge ports, delivering simple charging for today's most popular tech devices such as tablets, phones, and iPads.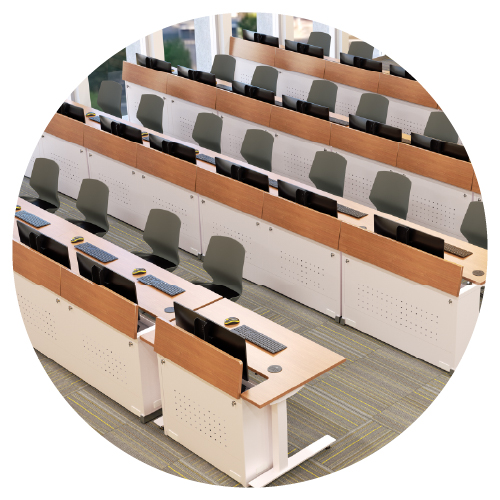 BACKUP POWER FOR ADDED SECURITY
In the case of a power failure, Line of Sight 3.0 Electric computer desks feature a battery backup option that allows users to close the unit for equipment security. Simply install two 9 volt batteries in each unit which supports closure via remote during power outages.
INCREASE ROOM UTILIZATION
The Line of Sight 3.0 computer training desk stores the monitor, keyboard and mouse all within in the desk chassis, housing cords and cables neatly out of view. Rooms can be used for a variety of purposes increasing room utilization and saving valuable space.
BUILT FOR YOUR EQUIPMENT
Technology is constantly evolving and so is the size of IT equipment. Line of Sight 3.0 was built to support all of your technology needs regardless of the size of your hardware. Larger screens, All-in-One PCs, iMacs and multiple CPUs all work seamlessly with Line of Sight 3.0.
ANTI-COLLISION TECHNOLOGY
Line of Sight 3.0's new anti-collision technology will stop the motor upon detection of an obstacle helping prevent damage to lids tops and other equipment.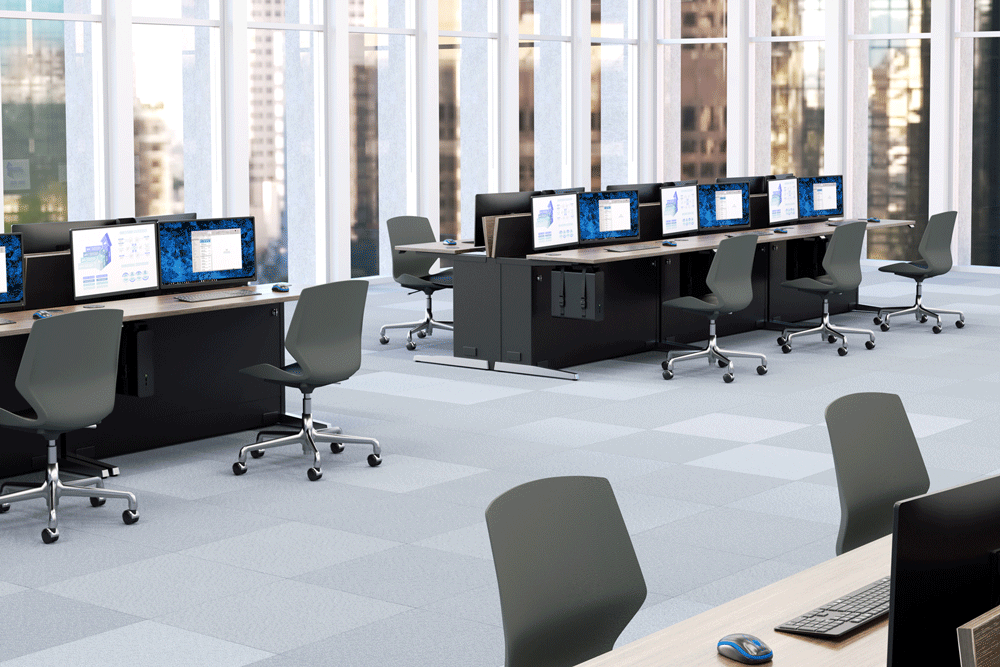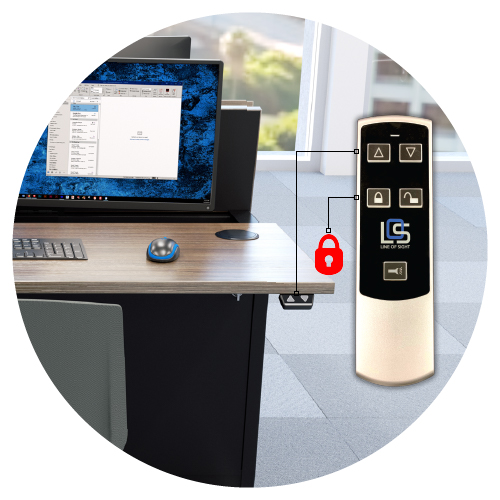 IMPROVE THE QUALITY OF INSTRUCTION
In this classroom of the future, the instructor maintains control. By pushing the lock button on the remote, the teacher can disable the individual desk switches. Unlock the remote and independent user control is restored at the workstation.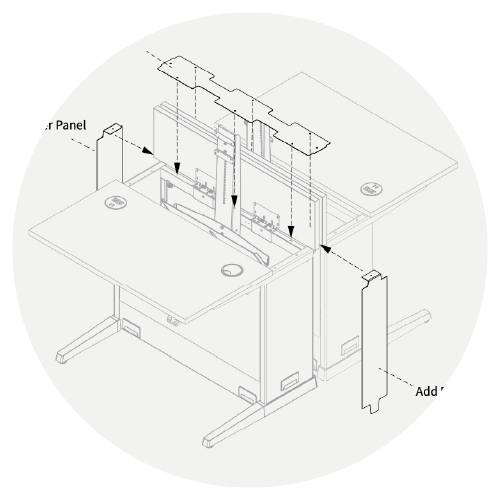 STEP BY STEP CUSTOMIZATION
Our Line of Sight 3 workcenters feature a highly styled design and create a unique way to optimize valuable space and integrate technology products in multi-use environments. Customize your workcenter with Line of Sight's step-by-step configuration guide.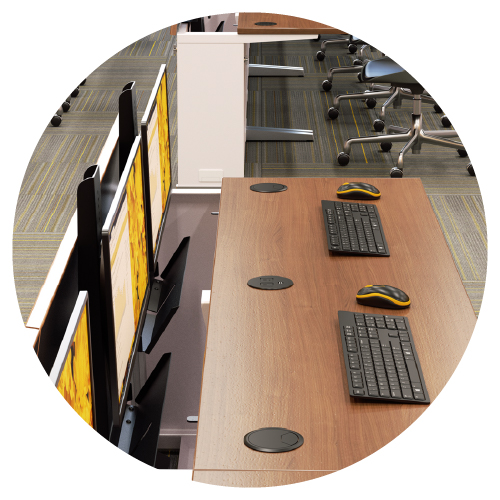 SECURE VALUABLE IT EQUIPMENT
At the push of a button, all the screens can be simultaneously raised or lowered by the instructor, instantly transforming from computer desks to standard desks and ensuring valuable computer equipment is locked safely away when not in use.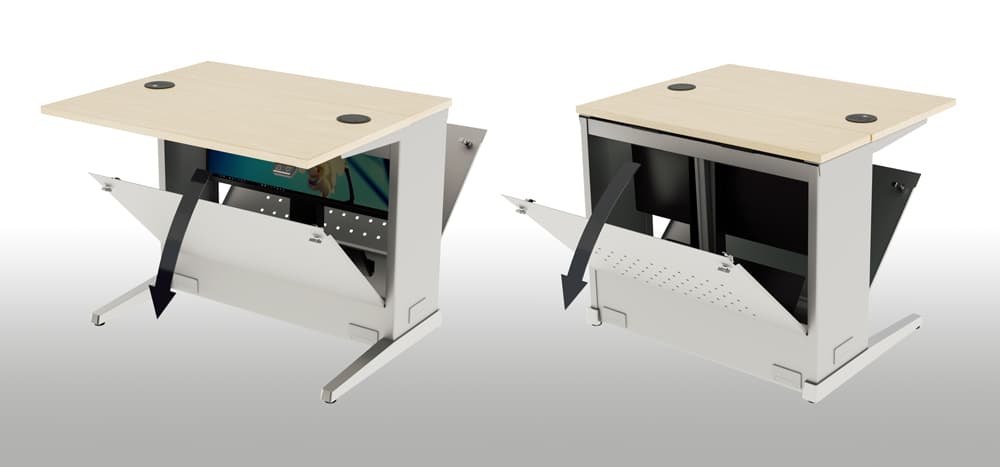 SIMPLE INSTALLATION AND CONFIGURATION
Installation and security of IT equipment has never been easier. Removable front and rear panels allow full access to the chassis making hardware installation, cable management and configuration a breeze. Optional locking rear panels allow you to secure valuable IT equipment delivering an extra level of security.
SMOOTH QUIET OPERATION
Line of Sight 3.0 operates at a sound level below 40db utilizing an ultrasmooth and ultra-quiet motor so students' attention can remain on what is important… learning. The advanced smart motor system will also detect when the workcenter lids are about to close to deliver a virtually silent soft closure.
SONOMA MOBILE TABLES ADD FLEXIBILITY TO ANY TRAINING ENVIRONMENT
Sonoma Mobile Nesting Tables provide a quick and easy solution to transform any space into a training space, meeting room or collaboration space. One touch flip top release, locking caster wheels and easy ganging allow you to easily flex your space for any need. Leg to leg nesting reduces the amount of space you need for storage and maximizes leg space for users seated at the tables. The easy one touch release and modern design makes the Sonoma an excellent choice for all your training and meeting needs.
"NOW OUR COMPUTER LABS CAN DO DOUBLE DUTY"
Line of Sight was the perfect solution for U.A. Local 38
Multi-use training rooms for computer-based or hands-on training
Power outlets on the worksurfaces make power readily accessible
Cost-effective way to facilitate more students in their classrooms
Sales representative was easy to work with, responsive, and worked within their budget and timeline