Sierra HXL Crank Sit Stand Desk
A Great Alternative For The Healthy Workforce
The Sierra HXL Crank sit stand desk is engineered to enable manual adjustability requiring minimal amounts of human force, making it a good alternative for the healthy workforce or for areas where frequent adjustments are not required.
The HXL Crank adjusts from 25.5″–43″ and will accommodate the average male or female worker, making it a good solution for companies seeking limited height adjustability. It adjusts at a rate of 5.6 turns per inch even with more than 125 pounds of equipment on the worksurface.
Workcenter Features
Frame options: 2-leg frames
24″ or 30″ depths
Widths from 36″ to 72″ depending on shape
Finish options: Silver, Charcoal, White
Height Range: 25.5″ to 43″
Payload Capacity: 125 pounds
Travel Speed: 1 inch = 5.6 turns
Flat Foot Kit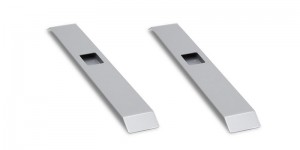 Reinforced steel construction for added stability
Sold as a pair for a single workstation
Silver
Charcoal
White
Dimensions

Sit Stand Worksurfaces
Workrite's standard laminated worksurface program features 25 popular Wilsonart® laminates with coordinating 3 mm edgeband options. For larger, more accurate swatches of available laminates, and suggested laminate to edgeband pairings, please refer to the Materials & Finishes tab of the Workrite binder.

Laminate Price – Tier 3
Note: These colors are not guaranteed to be accurately reproduced. For best results order actual Laminate Material Samples by calling (800) 463-7731

All laminates above are considered standard. Other laminate options are available, but require a non-standard product request. Contact your sales representative or Workrite Customer Service to inquire about a non-standard product request. For additional laminate options from Wilsonart, click the button below to visit their Design Library.