Adjustable Keyboard Platforms
Adjustable keyboard platforms are a great way to provide maximum ergonomic benefits and greater levels of comfort for any workforce. When used in conjunction with fixed height worksurfaces, or with height adjustable worksurfaces featuring limited ranges of adjustability, an adjustable keyboard platform can improve the overall usability and ergonomic functionality of the entire workcenter. Workrite offers a broad selection of pre-configured keyboard platform systems as well as individual platforms and arms that can be purchased separately, providing multiple solutions for virtually any application.
The Right Products for the Work Space
Knowing where the user will work is the key to ensuring proper fit and installation. Workrite offers adjustable keyboard solutions for every typical work space configuration. The symbols below identify the most common configurations found in today's modern workplaces. Look for them throughout this section of the specification guide to ensure that you are selecting the right product for each specific application.
Mouse in Comfort
All Workrite palm supports and wrist rests feature our memory foam core, providing the comfort of gel and the durability of foam. Our memory foam core will soften in reaction to body heat and will mold itself to the user, resulting in maximum keyboarding comfort through the elimination of pressure points and fatigue. Mouse position is also an important element in providing maximum comfort and increasing productivity. For the most versatile solution, select a platform with an integrated ambidextrous mousing surface such as those featured in our Glide 2 and Banana-Board patented keyboard systems.
Right- and Left- Handed Mousing Surfaces
For the most versatile solution, select a platform with an integrated ambidextrous mousing surface. Two popular choices include the Banana-Board, with its sliding mouse surface or Glide 2, with its highly adjustable mouse platform. Our reversible platforms are designed to be installed for right or left hand users and can be reversed using simple tools as needed in the future. This platform type is also ideal for those who prefer a continuous platform with no moving parts and extreme rigidity for both mouse and keyboard support.
Preconfigured Systems
Most people will benefit from a preconfigured system. Determine if an existing system will suit your needs. If not, you can create your very own solution by combining a solo arm with a solo platform.

Individual Solutions
Determine the features you need
Workrite keyboard platforms include a number of thoughtful features to make typing and mousing less of a strain. UltraThin Phenolic vs. Classic Melamine platform material provide rigid support for keyboards. Our Optimizer™ features built-in cord management, a document holder to keep your work front and center and our helpful mouse trap to keep your pointing device in place. LeatheRite™ memory foam palm supports are standard on our keyboard platforms and mouse platforms.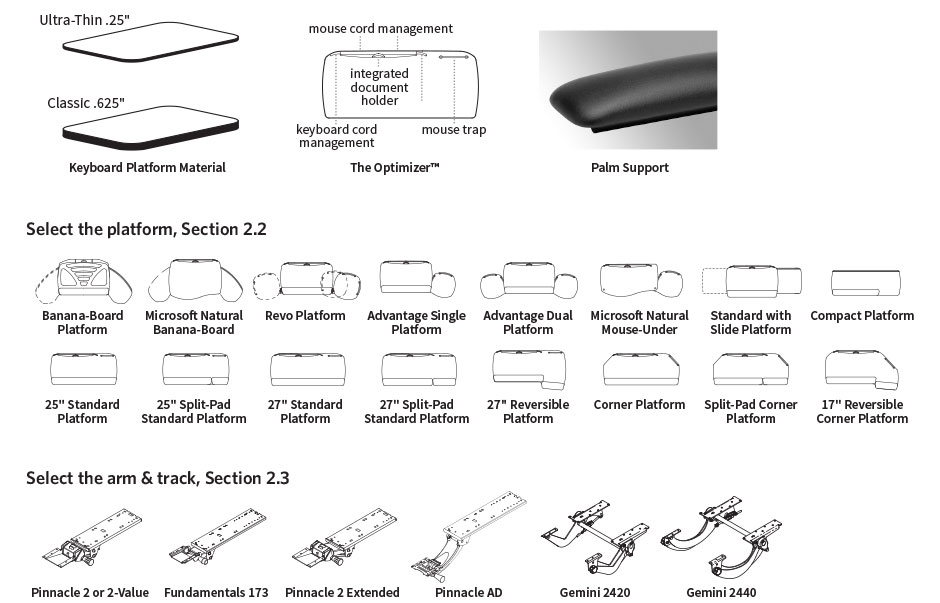 Preconfigured Keyboard Platform Systems