Why Keyboard Trays Are Still Useful, Even if They're Not Cool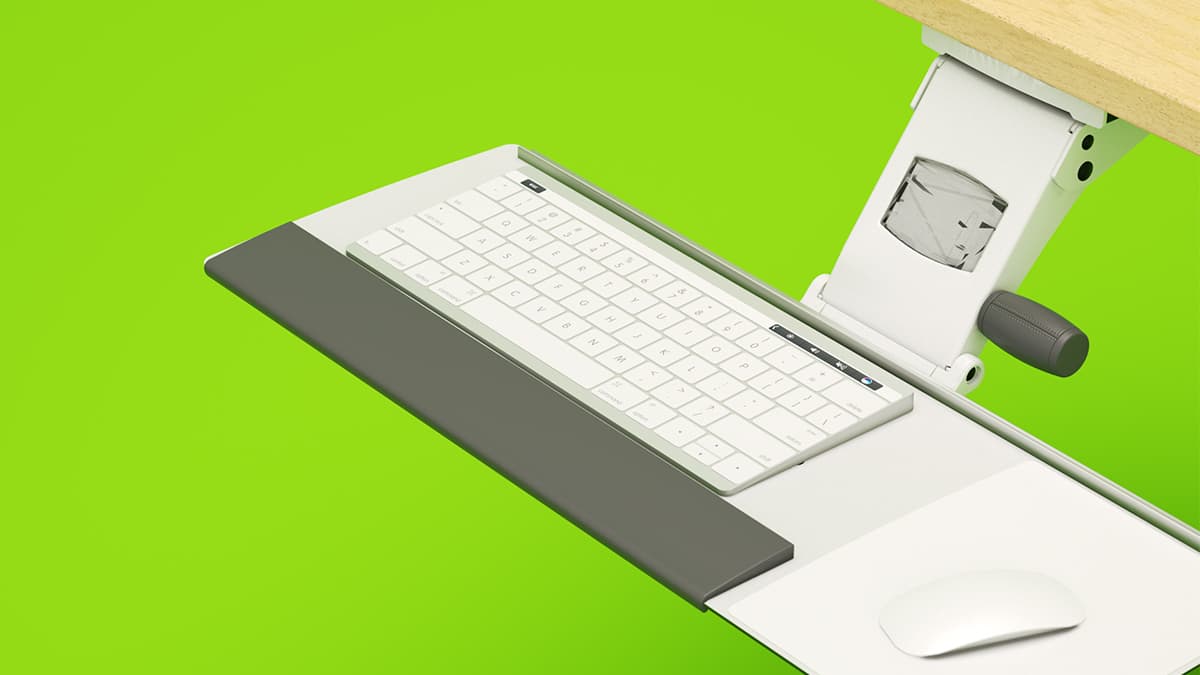 Adjustable keyboard trays are a great way to provide maximum ergonomic benefits and greater levels of comfort for any workforce. When used in conjunction with fixed height desks, or with sit stand desks featuring limited ranges of adjustability, a keyboard tray can improve the overall usability and ergonomic functionality of the entire workcenter. Workrite offers a broad selection of keyboard tray systems as well as individual keyboard platforms and keyboard arms, providing multiple solutions for virtually any application.
"They may not be cool, but keyboard trays are a great ergonomic solution."
Keyboard trays are a classic office fixture and aren't going anywhere anytime soon. They may not be cool, but they are a great ergonomic solution that allow users to properly align their arms, wrists, and hands while typing.
We're always striving to make ergonomics "cool" to help people everywhere work better and more comfortably. We get that keyboard trays are not necessarily the coolest, but it's important to note how they can be useful and why they've stuck around.
Add Ergonomics to Any Desk
Stuck with a fixed height desk that isn't the right height for you to work comfortably? Can't get your elbows at a 90 degree angle with your keyboard on top of the desk? Keyboard tray to the rescue! Keyboard trays turn a fixed height desk into an ergonomic workstation in an instant. Most fixed height desks are too tall for shorter people or too short for taller people. The adjustable keyboard arm allows people of different heights to use standard, fixed height desks by simply moving the keyboard tray up or down for better ergonomic positioning of the arms and wrists.
Fight Carpal Tunnel and Other Hand/Wrist Ailments
Proper ergonomic positioning of the arms and wrists will help fight carpal tunnel and other musculoskeletal disorders of the hands and wrists. If you're constantly working with your arms reaching or bending, or wrists at a stand angle, you'll eventually develop discomfort in your wrists and hands, which if unchecked, could turn into a serious issue. Keyboard trays help workers fight off these ailments by achieving and maintaining proper ergonomic positioning and the ability to change positions when fatigue strikes.
Fit For Anyone
From the shortest person to the tallest, an adjustable keyboard tray lets you put the keyboard right where it belongs so it fits better to your body. A keyboard positioned too high or low can cause problems for your arms, wrists, hands. This is often the case when working at a fixed height desk. A keyboard tray makes any old desk work for anyone, no matter their height.
Find the Right Angle
By angling the keyboard tray up or down, you can keep your wrists in a neutral position. If you lean back in your chair as you type, you may want to angle the keyboard tray up, If you lean forward, you may want to angle to keyboard tray down, However you angle it, keep your wrists in alignment with your elbows.
Different Types of Keyboard Trays
There are a variety of keyboard tray options with different levels of adjustability. The most basic keyboard tray has a compact design where the mouse and keyboard are on the same platform and the entire tray is mounted to a keyboard arm, allowing you to push the tray under the desk, or pull it forward, adjust up and down slightly, and tilt the tray. Others will have a separate mouse tray that can slide side to side, forward or back, allowing you to have the mouse in a different position than the rest of the keyboard tray. Some will even have two mouse trays—right and left—to quickly and easily accommodate different users without having to use tools to change the mouse tray position. Finally, you have your extended range keyboard tray systems, which can create a sit stand workstation without a whole new desk.
No matter what you choose, adding an adjustable keyboard tray to your desk can drastically improve the ergonomics of your workstation, reduce the risk of musculoskeletal disorders and fatigue, and help you work more comfortably. We get it; keyboard trays may not be cool, but they're a quick and easy way to improve the ergonomics of any workspace!