Blog
Workneat The 4 Things I Always Keep on My Desk, and All the Things I Don't There are two kinds of people in the office, those who keep a neat desk, and those who don't. While there's nothing wrong with a messy desk, it can be distracting to you and those you work with. Some say a messy desk is the sign of a creative person, and what we call "mess" might be totally organized to someone else. [...]
Workremote Ergonomics at Home: Seated Position So you've found yourself working from home and you don't have the ergonomic setup you may have at work. Here are some guidelines for working in the seated position. Slouching can lead to discomfort, fatigue, and back ache. To properly sit: Make sure your feet are resting firmly on the floor The depth of your chair should allow for your knees to [...]
Workremote How to Set Up an Ergonomic Home Office You may have suddenly found yourself working from home and are quickly realizing that your home office is not nearly as comfortable or ergonomic as your regular office. Don't worry! We've prepared a quick and easy checklist for creating an ergonomic workspace no matter where you're working. Just follow this basic set up guide to create a mor [...]
Trade Shows
Explore Workrite's NeoCon 2019 showroom: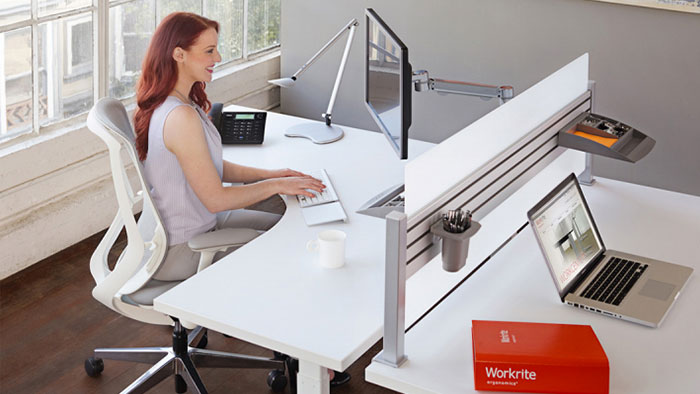 Workrite Ergonomics

Celebrates 25th Anniversary
THE INGREDIENTS THAT GO INTO BAKING UP A BUSINESS ARE KEY TO ITS LONGTERM SUCCESS.
First, there needs to be a tasty product. Timing is critical to get the company to rise. There needs to be a hunger for what is created. And the business needs to be in the right location to capitalize on the market.