Solace 2 Standing Desk Converter
Superior Range Ensures Ergonomics Comfort
Solace 2 promotes health and wellness by providing the core ergonomic benefits associated with sit stand desks, monitor arms, and keyboard trays. The all-in-one ergonomic workstation offers a quick & economical method to enhance user comfort as well as overall productivity.
With its broad range of lift, rotation and tilt, Solace 2 has the flexibility to accommodate a wide variety of users and applications.
Documentation
Instructions
As of January 2, 2019 all Solace Standing Desk Converters will carry a 6% of net price tariff surcharge until further notice.
Standard Features
Arm Features:
14–32 lb. load capacity
22″ lift range
360° rotation at base, 180° rotation at monitor mount
Monitor tower and keyboard platform rotate independently
Available in silver
Warranty: 5 years
Monitor Mount Features:
Supports one 6.5–24.5 lb. monitor or two 1.25–10.25 lb. monitors with optional Dual Monitor Adaptor (max. 22″ wide)
9.5″ independent monitor height adjustment
Standard Keyboard Platform Features:
Features our Standard UB182-25 Keyboard Platform
In-Line mousing for right and left handed users
3.75″ independent keyboard platform adjustment
Premium Features
All the same Arm and Monitor Mount features as the Standard, plus:
Premium Keyboard Platform Features:
Features our Revo UB2100FT25 Keyboard Platform
Mouse platform tilts independently from keyboard platform
Mouse platform can be positioned in-line, mouse-forward and mouse-over in both right handed or left handed position
3.75″ independent keyboard platform adjustment
Solace 2 Arm
The Solace 2 pneumatic strut allows the arm to effortlessly li the keyboard and monitor(s) between the seated and standing positions. The industry leading keyboard platform height range makes Solace an ideal solution for multi-user environments.
Designed to meet ANSI/BIFMA & HFES standards
Keyboard Platform, Secondary Surface & Mount travel in unison, transitioning between seated and standing height effortlessly
Stows down to just 16 " to quickly and easily access desktop workspace

Solace 2 Independent Keyboard Platforms
A choice of two popular ergonomic keyboard platforms and the ability to independently raise or lower and tilt the keyboard platform to the ideal height is the key difference of Solace 2.
Standard Keyboard Platform features UB182-25 Platform
Premium Keyboard Platform features Revo UB2100FT25 Platform
3.75″ of independent keyboard platform adjustment
Folds up 90° for optimal storage

Solace 2 Independent Monitor Adjustment
To create a uniquely personalized configuration, Solace 2 incorporates the ability to fine-tune independent adjustments to your monitor. The counter balance technology creates a simple to use, knob free experience so the user can adjust monitor height with minimal effort.
Supports one 6.5–24.5 lb. monitor
9.5″ of independent height adjustment
Standard VESA (75 mm & 100 mm)
Quick Release Adaptor included for faster monitor installation
Optional Dual Monitor Adaptor:
Supports two monitors 1.25–10.25 lb. each and up to 22″ wide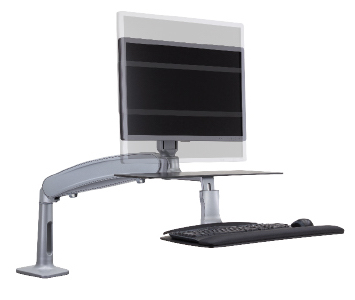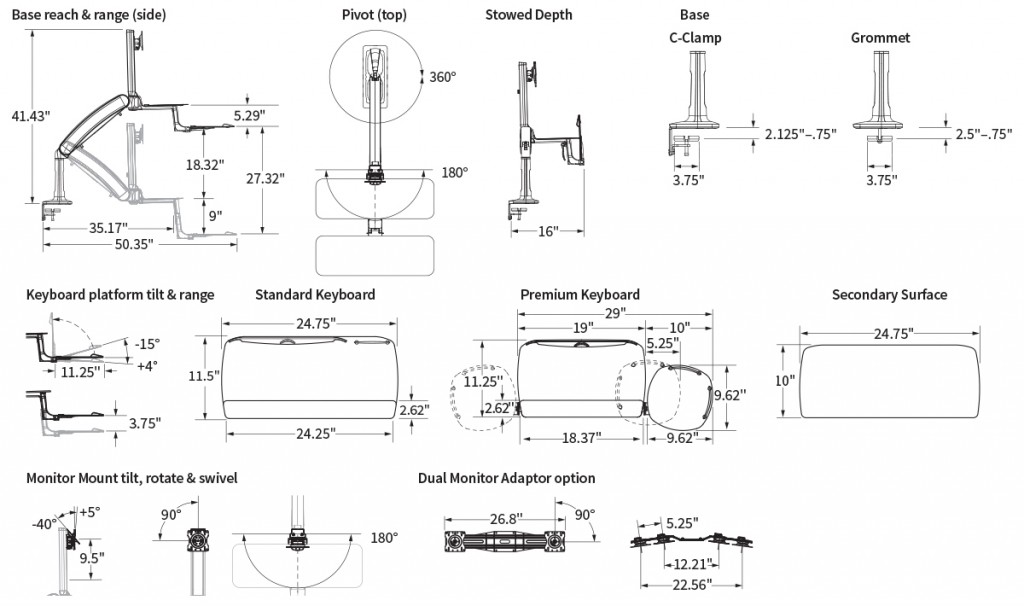 Accessories
Dual Monitor Adaptor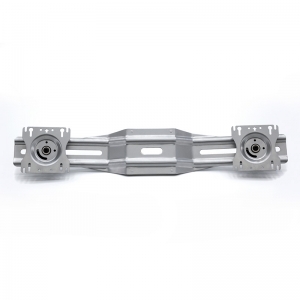 Compatible with Solace 2 and Solace Single
Converts from single monitor to dual monitor use
Supports two monitors up to 22″ actual width
Reduces maximum weight capacity of arm by 3 lb.
Solace 2: 1.25–10.25 lb. per monitor
Solace Single: 1–10 lb. per monitor
Includes additional Quick Release Adaptor