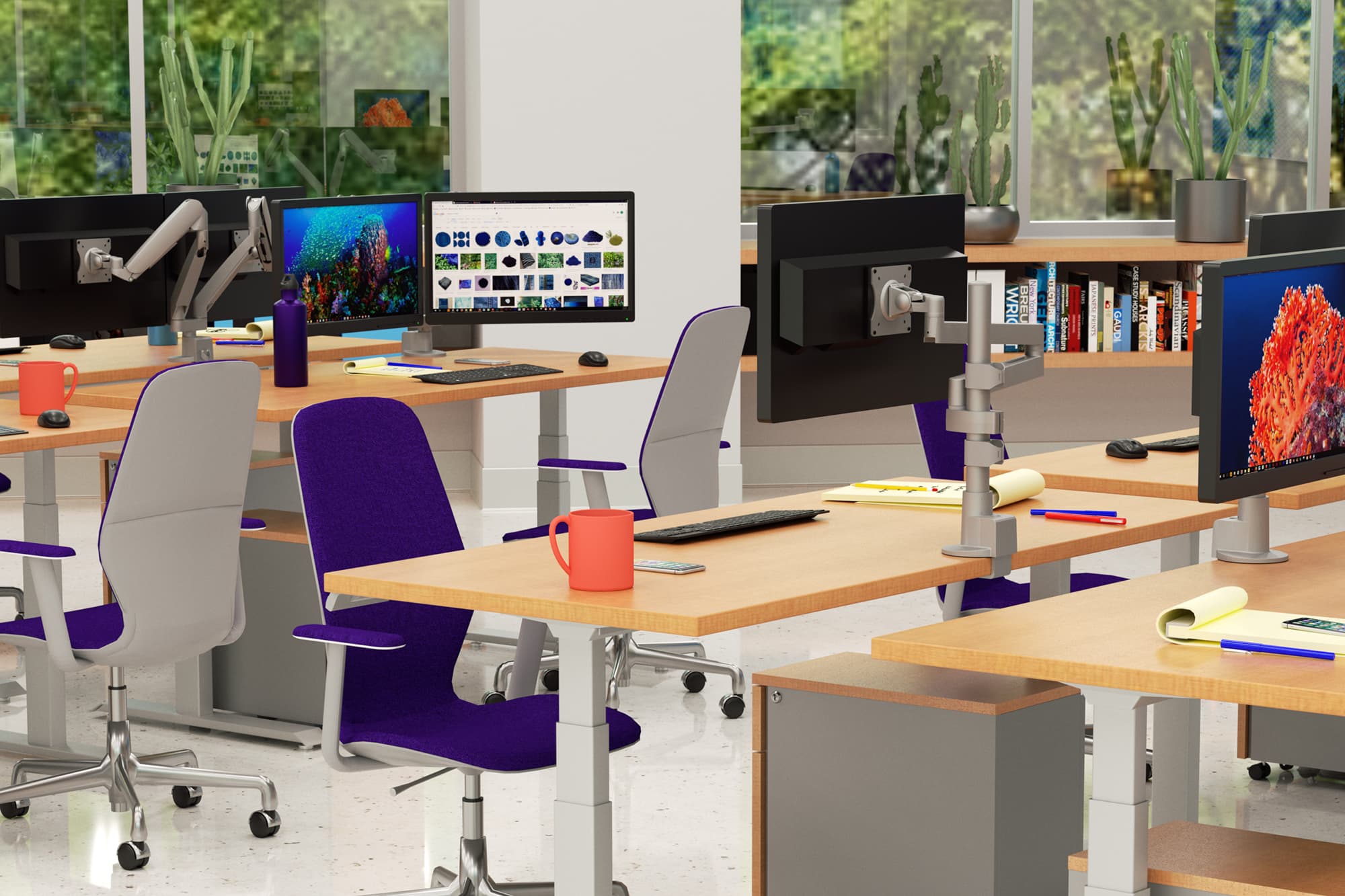 Monitor arms can be used with either fixed height or sit stand desks and are an excellent way to achieve the optimal level of adjustability recommended by ergonomists. When used appropriately, monitor arms can help workers avoid the development of musculoskeletal disorders (MSD), aid in the management of existing MSD, and help alleviate eye strain associated with long hours of computer use in the office. Monitor arms enable users to maintain neutral position of their shoulders, neck and back by allowing them to position their computer screen in the perfect location and angle for their height and the type of task they are performing. This adjustability is especially beneficial to users who wear corrective multi-focal lenses.
Space Saving Benefits
Using a properly designed monitor arm provides valuable space saving benefits that can increase the productivity of users, especially those individuals in smaller workspaces. Collapsible movement is one key benefit of a properly designed monitor arm, allowing the user to easily move the monitor out of the way for storage when not in use. Suspension space created by mounting the monitor arm to the back edge of a worksurface is another key benefit of an adjustable monitor arm, providing the user with substantially more usable work surface than a typical desk base monitor stand.
Collaboration Benefits
A typical monitor arm will provide 180 degrees of horizontal rotation enabling users to share their computer screen during collaboration sessions or when conducting customer meetings.
Performance Benefits
Research indicates that proper ergonomics in the office can increase worker productivity by 10-15% depending on the type of work being performed. Monitor arms are a key component to providing real ergonomic solutions that contribute to a more comfortable and productive environment.
Use the Monitor Compatibility Form to find out which Monitor Arm is right for you, depending on your monitor and the number of monitors you have.
Number of monitors
Today's workers often use multiple monitors to facilitate easy access of information and increase efficiency. Understanding how many monitors are to be used is the first step to selecting the right monitor arm for any application.
Monitor arm interface
Most monitors feature a standard VESA mount with 75 mm by 75 mm and/or 100 mm by 100 mm screw hole patterns. Some manufacturers have introduced monitors that require custom brackets or adaptors and, in some cases, feature stand only mounting locations. Verification of VESA mount compatibility is required prior to selecting a monitor arm.
Monitor weight and dimensions
It is extremely important to select a monitor arm that best matches the weight and measurements of your monitor(s). Selecting a support that is not capable of handling the weight of heavier monitors can result in the arm failing and damaging the monitor. Most modern monitors are light weight and selecting a support that is too strong for their weight will make adjustment difficult and typically allow the monitor to drift during use.
Installation requirements
The most common monitor arm installation is a C-Clamp attached to the back of the worksurface; however, some unique applications may require a unique mounting solution. Grommet mounts for corner installations, wall mounts and tool bar/slat wall mounts are just a few of the other installation types that may be required by these types of applications.
Range of motion requirements
Space constraints are a fact of life in today's office environment. The flexibility to position a monitor arm close to the back of shallow worksurfaces, or to extend its reach in spaces with deeper worksurfaces is more important than ever. It is important to pay close attention to the specifications for stowage and reach when selecting the right monitor arm for a specific application.
Frequency of use
Not all monitor arms are created equal. For applications where the monitor is to be used in high traffic or 24/7 environments, be sure to specify a monitor arm that was designed and tested to withstand the level of use required.
Ergonomic tips
Setting the proper viewing height and distance requires the user to position the screen at least 15.7", or approximately arms-length away, with the top of the monitor screen at or below eye level. Multi-focal lens wearers may find it necessary to position the monitor lower than other users to maintain neutral neck position. Center the primary monitor screen so that when the user is seated or standing at their workstation, the center of the screen is directly in front of their eyes. Adjust the monitor's tilt position as required to compensate for glare, changes in vision as eyes tire, or to provide better focus based on the content size of the work being performed. In most cases, a tilt range of 30–40° will allow users to maintain neutral posture and work comfortably throughout the day.