Sequoia Monitor Mount
Simple & Scalable
The Sequoia monitor stand was designed to support from 1 to 6 monitors each weighing 1–16 pounds. The system features a C-Clamp or grommet mounted pole that enables users to quickly and easily expand or reduce the number of monitors being used. Create one of 9 different configurations by simply adding pole lengths or arms that can be purchased separately as needed.
Sequoia Features
Max Monitor Height: Single Pole -25", Double Pole- 13.25"
Max Monitor Width: 23"
Vertical Articulation: N/A Fixed
Forward Reach: N/A Fixed
Collapsible: N/A Fixed
Tilt range: 40° (+/-20°)
Pivot: 40° (+/-20°)
Rotation: 90° (portrait to landscape)
Monitor Pattern: Standard VESA (75mm & 100mm)
Mounts: C-Clamp or Grommet Included
Available Colors: Silver
Warranty: 10 Year
Verify your monitor's compatibility with this monitor arm using our

web based tool.
Documentation
Silver
Add On Bases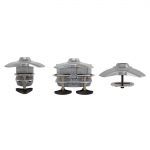 Use with Sequoia Arms only

C-Clamp for use with 1-4 monitors

Heavy Duty C-Clamp for 5 or 6 monitors

Grommet mount for all configurations, 1-6 monitors