Workrite's diverse lighting selection features both desk and under cabinet task lighting solutions. Our lighting products are designed with modern aesthetics, energy efficiency and ergonomics in mind, ensuring users the very best lighting for improving productivity and health.
D

ESK & UNDER CABINET TASK LIGHTING
Natural OLED Desk Light
Workrite's Natural Desk Light features an Organic Light Emitting Diode (or OLED) panel that is unbelievably thin and lightweight, making it the perfect choice for creating this sleek, modern design.

The OLED panel provides rich, evenly diffused light across the work surface while producing no glare, UV or blue light risk — virtually eliminating the health risks associated with artificial lighting.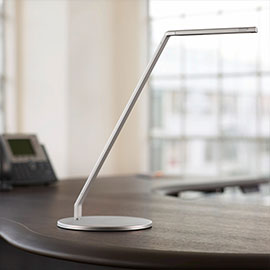 Fundamentals Desk Light
The Fundamentals LED desk light features a sleek contemporary design with single touch button interface making it an elegant addition to any work environment. Fundamentals delivers an exceptional 54 lumens per watt and consumes a mere 3.4 watts of power.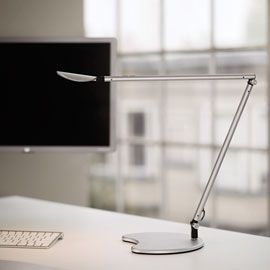 A

stra 2 Double Arm Desk Light
The Astra 2 Double Arm was designed to provide outstanding reach in a small footprint. With nearly 3 feet of extension from the base and a 360° rotating head, the Astra 2 Double Arm puts illumination exactly where it is needed.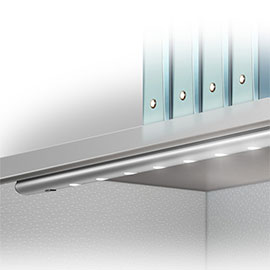 V

erano Under Cabinet Light
The Verano series is available in three popular lengths and features an exceptionally high CRI and neutral light temperature, bringing the brightness of natural daylight to your desktop.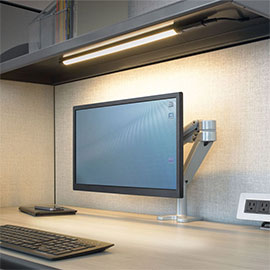 C

iglio Under Cabinet Light
The Ciglio series is available in three popular lengths and with or without built-in occupancy detection. Daisy chain any of the six models with any of our five jumper cable options to create the perfect solution for virtually any design or power requirement.
"…No one knows ergonomics better than Workrite – it's not just something we do, it's all that we do…"

Chat With Workrite
Have questions? Contact Workrite Ergonomics by
email
or toll free: 1-800-959-9675.

Contact Your Rep
H

ave questions about a product? Contact your sales rep by replying to this email.
Workrite Ergonomics, All Rights Reserved 2015 ©