Natural OLED Desktop Task Light
The Best Light is Natural Light
Workrite's Natural OLED Desktop Task Light features an Organic Light Emitting Diode (or OLED) panel that is unbelievably thin and lightweight, making it the perfect choice for creating this sleek, modern design.
OLED panels produce the closest artificial light source to natural sunlight and render colors with amazing accuracy. The OLED panel provides rich, evenly diffused light across the work surface while producing no glare, UV or blue light risk — virtually eliminating the health risks associated with artificial lighting.
Even after hours of operation, the OLED panel produces very little heat (<35°C/95°F) so it is always safe to touch. Natural is the ideal light for reading intensive environments and enables users to work in absolute comfort without eye strain.
Natural Features
One evenly diffused OLED panel
Compact, space saving design
Exceptional light color accuracy (94 CRI)
Sturdy, weighted table base and transformer included
2 Stage, Touch Sensitive Dimming Switch dims to 50% or 15%
UL/cUL Listed
30,000+ hour OLED life (L70 rating)
5 year fixture warranty
Available in silver
As of January 2, 2019 all Lighting products will carry a 6% of net price tariff surcharge until further notice.
Certification
Documentation
Silver
Dimensions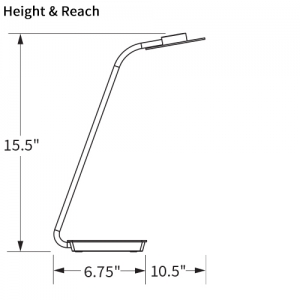 Photometric Map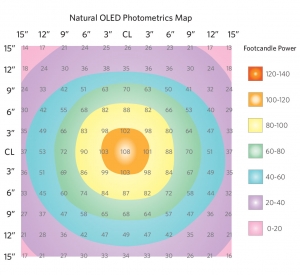 Specifications
Foot Candle Power (@ 15″): 108 fc

Light Output (Lumens): 442 lm

Power Consumption (Wattage): 13.7 W

Lumens Per Watt: 32 lm/W

Photometric Performance: See Chart

Light Color Temperature (CCT): 3900 K

Color Rendering Index (CRI): 94 CRI

Fixture Dimensions: W: 12.75″ x H: 15.5″ x D: 10.5″