Essentia Electric Sit Stand Desk
Greater Flexibility For Workspace Design
Essentia is the newest and most exciting member of Workrite's sit stand desk portfolio. Featuring our exclusive industrial design, an inductive touch control switch with 6 memory presets, and adjustable stretchers that provide greater flexibility for work space design, Essentia is truly in a league of its own.
Essentia is available in 2-leg or 3-leg configurations that both meet the BIFMA G1-2013 standards for adjustability and exceed BIFMA X5.5 requirements for durability. They are UL certified, and Greenguard certified. Essentia is, quite simply, one of the highest quality, value priced sit stand desks in the market today!
Workcenter Features
Frame options: 2-leg and 3-leg frames
Compatible with 24″ or 30″ deep worksurfaces
Widths from 34″ to 84″ depending on shape
Finish options: silver, charcoal, and white
Height range: 22.5″ to 48.7″ for full BIFMA G1-2013 compliance
Payload capacity: 225 pounds for 2-leg models

300 pounds for 3-leg models

Travel speed: 1.6 inches per second
Max power draw: 120 V, 60 Hz, 8 A (maximum)
Standby power: 0.3 W
Meets BIFMA X5.5 standards for performance and durability
Workrite Essentia Base Set has achieved GREENGUARD GOLD Certification
UL962 Certified when paired with Workrite worksurface
Documentation
Frame Color Options
Silver
Charcoal
White
Dimensions

Essentia Sit Stand Desk Controls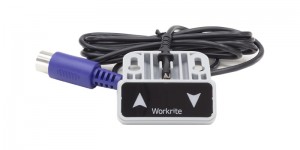 Essentia Basic Switch
Simple up/down button control switch
Includes cable management & mounting hardware
Not interchangeable with the STDSWITCH
SKU (ES-B-SWITCH)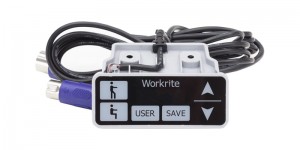 Essentia Programmable Switch
Inductive touch control prevents accidental movement
Three user sit & stand memory pre-sets (six total)
Swipe to lock/unlock feature
Programmable upper and lower height limits
Digital height readout
Manual up/down control buttons
Includes cable management & mounting hardware
Not interchangeable with PROSWITCH
SKU (ES-P-SWITCH)
Essentia Sit Stand Desk Feet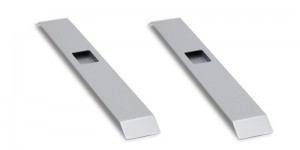 Essentia Flat foot Kit
30″ Flat Foot Kit
Sold as pair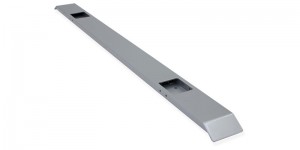 Essentia Bench Foot Kit, Dual Station
Perfectly align 2 workstations back-to-back
Reinforced steel construction for added stability
Compatible with 29″ deep tops only
Sold as a pair (for 2 workstations)
Sit Stand Worksurfaces
Workrite's standard laminated worksurface program features 25 popular Wilsonart® laminates with coordinating 3 mm edgeband options. For larger, more accurate swatches of available laminates, and suggested laminate to edgeband pairings, please refer to the Materials & Finishes tab of the Workrite binder.

Laminate Price – Tier 3
Note: These colors are not guaranteed to be accurately reproduced. For best results order actual Laminate Material Samples by calling (800) 463-7731

All laminates above are considered standard. Other laminate options are available, but require a non-standard product request. Contact your sales representative or Workrite Customer Service to inquire about a non-standard product request. For additional laminate options from Wilsonart, click the button below to visit their Design Library.