Astra 3 Single Arm Desktop Task Light
Small in size, big in performance
The Astra 3 Single Arm LED task light is designed to provide high performance, efficient lighting in work environments where space is at a premium. Astra 3 features industry leading light output and high CRI LEDs that provide a crisp, white light for color accuracy with no shadowing effect.
The programmable dimming, auto shut off feature, and plug in occupancy sensor gives users the perfect level of control and light adjustability needed for virtually any task. When combined with one of our mounting options including our Tool Bar/ Slatwall Mount, Table Base or C-clamp, the Astra 3 Single Arm task light is the ultimate space saving solution.
Astra Task Light Specifications
19.8″ Reach from base/mount
Bright white light output: 3100K, 93 CRI
Included occupancy sensor
Continuous dimming from 100% – 5%
Touch button on/off & dimming controls
UL Certified, Energy Star Compliant Luminaires V1.2
50,000+ hour life LED's (L70 rating)
5 year fixture warranty
Available in silver
12 W transformer included:
24 V, 0.5 A, Class 2 transformer: 3″ × 1.125″ × 1.75″
Two prong plug on 6 ft cord, connects to 3 ft cord attached to fixture
As of January 2, 2019 all Lighting products will carry a 6% of net price tariff surcharge until further notice.
Certifications
Astra Task Light Specifications
Foot candle power (@ 15″): 157 fc
Light output (lumens): 384 lm
Power consumption (wattage): 5.7 W
Lumens per watt: 67 lm/W
Light color temperature (CCT): 3100 K
Color Rendering Index (CRI): 93 CRI
Includes energy saving Occupancy Sensor
Documentation
Astra 3 Single Arm Task Light Base Options
Table Base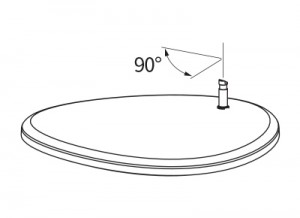 Sturdy yet movable, this 4 pound table base lets you put your light exactly where you want it
Provides 90° of rotation at the base
Dimensions: 7″W × 7.5″D × .3″H
Two Piece C-Clamp Mount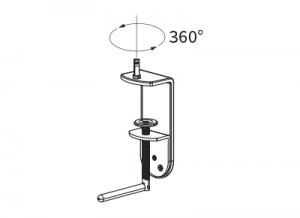 The sturdiest and most compact mounting solution
Two piece design provides easy installation in space constrained environments
Provides 360° of rotation at the base Attaches to surfaces .25″ – 2.5″ thick
Dimensions: 2″W × 1.75″D × 4.5″ H
Tool Bar & Slatwall Mount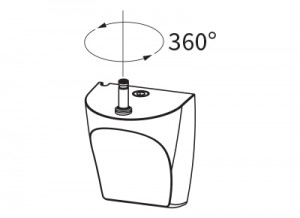 Add some height to your light and conserve desk space by mounting to a Workrite Tool Bar
Adjustable clamp design is also compatible with any 90° edge .5″ – 1.75″ Slatwall system.
Provides 360° of rotation at the base
Dimensions: 2.5″W × 2″D × 2.8″H
Astra 3 Single Arm Task Light Accessories & Parts
Replacement Occupancy Sensor

Maximize energy savings with a passive infrared Occupancy Sensor
Automatically turns your light off after 15 minutes of inactivity and back on once motion is detected
360° swivel design allows you to direct the sensor in the optimal sensing area
Dimensions: .75″W × .5″D × 2″ H
Replacement Astra Transformer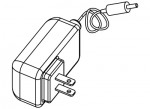 12 W transformer
24 V, 0.5 A, Class 2 transformer: 3″ × 1.125″ × 1.75″
Type A, two prong plug on 6 foot cord